Inquire Today about Our Commercial Cleaning Services.
For commercial carpet cleaning and floor care, window cleaning, and more, choose the Maritime company that cares about your office and your employees.
With more than 50 years of cleaning experience, Crystal Clean Maintenance is the one to call when you want your facility or rental unit professionally cleaned.
Our staff members are bonded, insured and highly experienced, which means you can expect professional quality every time. We don't use sub-contractors – everyone you meet is part of the Crystal Clean team. And because a clean workplace is about more than meets the eye, our cleaners are trained to never miss a spot.
Yes—Writing an RFP can be easy!
Preparing an RFP for commercial cleaning services can feel like torture.
You need to do one, because that's what will make the process fair.
They take so… Much… Time. And how can you be sure you're not forgetting anything?
That's where our checklists can help. When you download EZ-RFP: How to Write an RFP for Commercial Cleaning Services, you'll get a printable set of best practice checklists, as well as quick tips on how to prepare a great RFP.
Get your RFP together more quickly and more efficiently—with EZ-RFP. Download your copy today.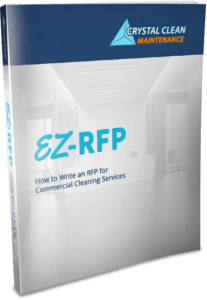 Download Your EZ-RFP Today.
Just enter your email and click Request my EZ-RFP to receive your copy.