Get The Flavor Out There, Not The Grease!
We are aware that every successful restaurant depends on cleanliness in the kitchen. For your kitchen to stay hygienic and clean, your restaurant's exhaust system is essential as well. It reduces smoke, grease, and culinary unpleasant smells that might harm your customers and staff. Our mission is to offer exceptional restaurant exhaust cleaning services in New Brunswick to ensure the safe, effective, and efficient operation of your kitchen.
Problems That May Occur Due To Exhaust Clogged With Grease And Dirt:
Poor air quality:  Poor air quality in your kitchen might result from clogged exhaust systems that collect oil and cooking fumes. Your staff members and clients may develop allergies and asthma as a result of this.
Fire hazard: Your exhaust system's chance of catching fire might rise with dirt and grease accumulation.
Damage to your appliances: Your kitchen appliances, such as your stove and hood, can also be harmed by grease and filth buildup.
Increased energy bills: A clogged exhaust system can make your HVAC system work harder, which can lead to higher energy bills.
Why Exhaust Cleaning?
Exhaust cleaning can help to prevent these problems and keep your restaurant's exhaust system running smoothly. It can also:
Improve air quality in your kitchen.
Reduce the risk of fire.
Protect your kitchen appliances.
Lower your energy bills.
Our Exhaust Cleaning Services
Restaurant Exhaust Hood Cleaning: Our specialized cleaning process ensures your exhaust hood is free from grease buildup, reducing fire hazards and improving air quality.
Ductwork Cleaning: We thoroughly clean the ductwork to prevent grease buildup and maintain optimal airflow in your kitchen.
Fan and Motor Cleaning: We clean exhaust fans and motors to ensure they operate efficiently and prevent overheating.
Filter Replacement: We can replace or clean your filters to maintain peak performance.
Custom Cleaning Plans: We create personalized cleaning plans tailored to your restaurant's needs, so you get the service you deserve.
Don't wait until grease buildup becomes a problem. In order to organize a restaurant exhaust cleaning service in New Brunswick, get in touch with us anytime. Our expert team is ready to help you maintain a clean, safe, and efficient kitchen.
Experience the taste of success without the grease – choose Crystal Clean Maintenance for all your restaurant exhaust cleaning needs!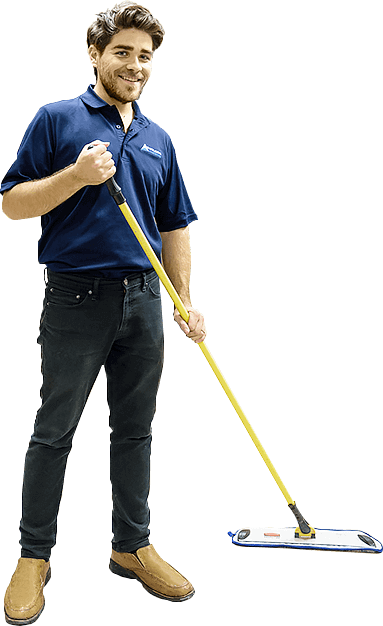 Crystal Clean Maintenance has more than 50 years of custodial experience in Fredericton, Moncton, St. John, and the surrounding area. We are fully insured and bonded, providing liability and property damage coverage. We screen all employees for your protection, and have their documentation available for you to view. Our staff are neat in appearance and carry proper company identification.
Need commercial cleaning? Choose the Crystal Clean difference.
Bottom line? We are fully committed to providing our clients with incredible service, and we'll do whatever it takes to help you maintain and enhance the value of your property.
Yes—Writing an RFP can be easy!
Preparing an RFP for commercial cleaning services can feel like torture.
You need to do one, because that's what will make the process fair.
They take so… Much… Time. And how can you be sure you're not forgetting anything?
That's where our checklists can help. When you download EZ-RFP: How to Write an RFP for Commercial Cleaning Services, you'll get a printable set of best practice checklists, as well as quick tips on how to prepare a great RFP.
Get your RFP together more quickly and more efficiently—with EZ-RFP. Download your copy today.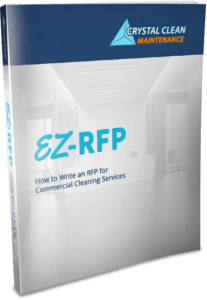 Download Your EZ-RFP Today.
Just enter your email and click Request my EZ-RFP to receive your copy.