Fire Suppression System Installation-Keeping Your Business Safe
A fire suppression system is a specialized safety system designed to control, suppress, or extinguish fires in various environments, such as commercial kitchens, industrial facilities, data centers, and more. These systems are crucial for preventing fire-related damages, protecting lives, and minimizing property loss.
At Crystal Clean Maintenance, our top concern is to keep you, your family, and your belongings secure. We are an established company offering several sectors the best firefighting system installation services. Install a Highly Advanced Fire Fighting System in your kitchen to protect your people, assets, and environment.
Here are common types of fire suppression system installation used in commercial kitchens:
Wet Chemical Fire Suppression Systems:
Dry Chemical Fire Suppression Systems:
CO2 (Carbon Dioxide) Fire Suppression Systems:
Foam Fire Suppression Systems:
Pre-Engineered Kitchen Hood Systems:
Water Mist Systems:
Automatic Fire Extinguishers
Fire Suppression System Installation near ME
A trained specialist should be used to install a fire suppression system.The installation must evaluate your unique requirements in order to pick the appropriate kind of system for your business. To ensure that the system is efficient, they must install it correctly.
Why Choose Crystal Clean Maintenance for Fire Suppression Systems Installation?
Our certified technicians have years of experience in fire suppression system installation, ensuring your kitchen is equipped with top-tier safety measures.
We use state-of-the-art tools and equipment to install suppression systems with precision and efficiency.
We adhere to all local regulations and safety guidelines, providing you with peace of mind.
We tailor our fire suppression system installations to your specific kitchen layout, ensuring maximum protection.
Beyond installation, we offer maintenance plans to keep your system in optimal condition, ready to protect your kitchen at all times.
Don't wait until disaster strikes. Contact us today to schedule your fire suppression system installation and kitchen cleaning services. Elevate your kitchen's safety with Crystal Clean Maintenance. We are committed to protecting what matters most to you.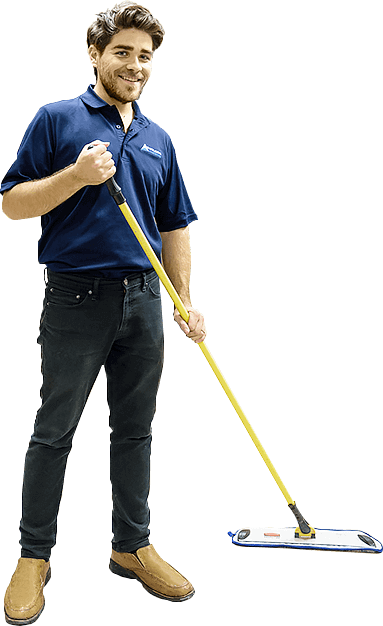 Crystal Clean Maintenance has more than 50 years of custodial experience in Fredericton, Moncton, St. John, and the surrounding area. We are fully insured and bonded, providing liability and property damage coverage. We screen all employees for your protection, and have their documentation available for you to view. Our staff are neat in appearance and carry proper company identification.
Need commercial cleaning? Choose the Crystal Clean difference.
Bottom line? We are fully committed to providing our clients with incredible service, and we'll do whatever it takes to help you maintain and enhance the value of your property.
Yes—Writing an RFP can be easy!
Preparing an RFP for commercial cleaning services can feel like torture.
You need to do one, because that's what will make the process fair.
They take so… Much… Time. And how can you be sure you're not forgetting anything?
That's where our checklists can help. When you download EZ-RFP: How to Write an RFP for Commercial Cleaning Services, you'll get a printable set of best practice checklists, as well as quick tips on how to prepare a great RFP.
Get your RFP together more quickly and more efficiently—with EZ-RFP. Download your copy today.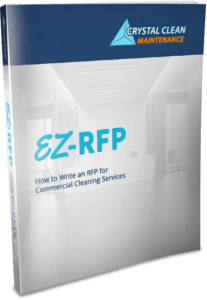 Download Your EZ-RFP Today.
Just enter your email and click Request my EZ-RFP to receive your copy.