Improve the Cleanliness of Your Restaurant with Our Duct Cleaning Services
Commercial dryer duct cleaning can significantly reduce energy costs, avoid fires, and improve the function's efficiency. Crystal Clean Maintenance understands the importance of restaurant duct cleaning and depending on its services, you can focus on other main cores of your business.
Our Functions Relevant to Restaurant duct Cleaning
Depending on the type and degree of stickiness of the grease/oil in the exhaust system, we may need to use a degreaser created specifically for cleaning it.
The grease will be manually cleaned.
We will send you images of the system after the job is finished to verify the level of cleanliness achieved.
Fat from the fumes circulates via hoods and filters before condensing into grease in the duct leading to the exhaust fan. If this grease accumulation is not regularly cleaned, it could catch fire with just one spark from the kitchen. There may be significant property damage and perhaps even more casualties as a result of this fire spreading throughout the duct. Depending on how often you cook, cleaning your kitchen exhaust system including restaurant duct and fan cleaning, on a regular basis lowers the danger of fire accidents and maintains the proper airflow.
At Crystal Clean Maintenance, we're dedicated to providing superior restaurant duct cleaning and fan cleaning services that are customized to meet your unique needs. Allow us to assist you in preserving a clean and safe restaurant environment. To arrange a cleaning service that guarantees the smooth operation of your business, get in touch with us right away.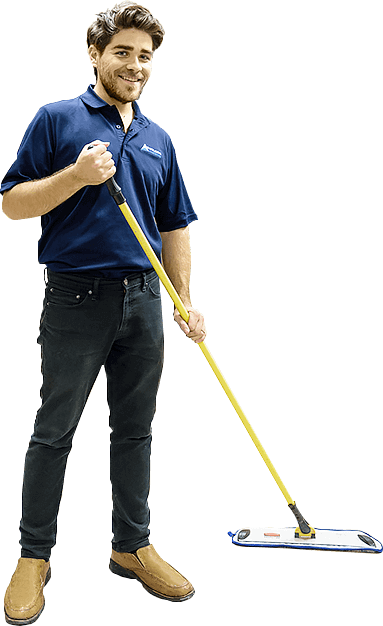 Crystal Clean Maintenance has more than 50 years of custodial experience in Fredericton, Moncton, St. John, and the surrounding area. We are fully insured and bonded, providing liability and property damage coverage. We screen all employees for your protection, and have their documentation available for you to view. Our staff are neat in appearance and carry proper company identification.
Need commercial cleaning? Choose the Crystal Clean difference.
Bottom line? We are fully committed to providing our clients with incredible service, and we'll do whatever it takes to help you maintain and enhance the value of your property.
Yes—Writing an RFP can be easy!
Preparing an RFP for commercial cleaning services can feel like torture.
You need to do one, because that's what will make the process fair.
They take so… Much… Time. And how can you be sure you're not forgetting anything?
That's where our checklists can help. When you download EZ-RFP: How to Write an RFP for Commercial Cleaning Services, you'll get a printable set of best practice checklists, as well as quick tips on how to prepare a great RFP.
Get your RFP together more quickly and more efficiently—with EZ-RFP. Download your copy today.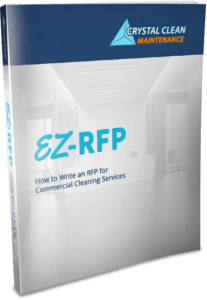 Download Your EZ-RFP Today.
Just enter your email and click Request my EZ-RFP to receive your copy.