Keep Your Kitchen Safe with Fire Suppression System Installation in New Brunswick
Apart from being a place where food is cooked and prepared, the kitchen is also where fires can start. That is why installing a fire suppression system in your kitchen is significant. A fire suppression system installation in New Brunswick can swiftly put out a fire, stopping it from spreading and causing property damage and casualties as well as injury.
Installation of the most reliable fire suppression systems has been Crystal Clean Maintenance's specialty for more than 50 years.Our team is aware about the various elements that may result in a commercial kitchen fire, which enables us to design the ideal fire safety solutions for restaurant settings.
Reasons for Suppression System Installation in New Brunswick
Although blankets and fire extinguishers can be effective firefighting measures, a commercial kitchen fire suppression system offers more benefits and precautions.
It is capable of operating without the assistance of a person, instantly putting out a fire and keeping it from spreading.
Almost any size kitchen can have it fitted.
The waterless nature of the wet chemical kitchen hood system makes it safer for your staff and equipment.
The technology recognizes and extinguishes fires fast.
Wet chemical systems are incredibly eco-friendly and don't harm the ozone layer.
Our kitchen fire suppression system installation services in New Brunswick involve:
Installation of fire suppression equipment in commercially constructed kitchens
Services for fabricating unique kitchen hoods
Services for fabricating grease ducts
Installation of fire-retardant duct wrap
Installation of electrical and gas control interlocks
Onsite installation
Creating personalized plans, drawings, and designs
Engineering advice and services
The nicest thing about working with Crystal Clean Maintenance is that we can handle all of your fire prevention needs. Our team is able to design and install the best fire suppression system for your requirements, regardless of whether you have a small restaurant or a big commercial kitchen.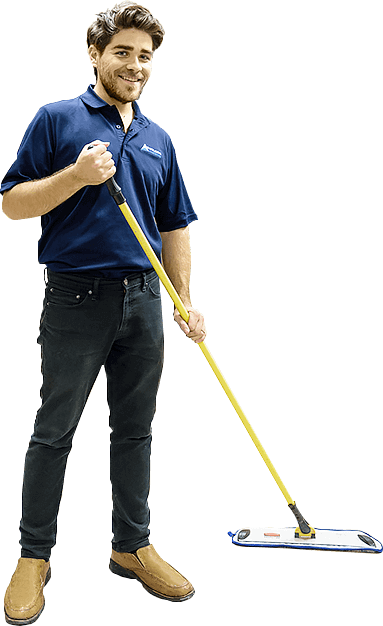 Crystal Clean Maintenance has more than 50 years of custodial experience in Fredericton, Moncton, St. John, and the surrounding area. We are fully insured and bonded, providing liability and property damage coverage. We screen all employees for your protection, and have their documentation available for you to view. Our staff are neat in appearance and carry proper company identification.
Need commercial cleaning? Choose the Crystal Clean difference.
Bottom line? We are fully committed to providing our clients with incredible service, and we'll do whatever it takes to help you maintain and enhance the value of your property.
Yes—Writing an RFP can be easy!
Preparing an RFP for commercial cleaning services can feel like torture.
You need to do one, because that's what will make the process fair.
They take so… Much… Time. And how can you be sure you're not forgetting anything?
That's where our checklists can help. When you download EZ-RFP: How to Write an RFP for Commercial Cleaning Services, you'll get a printable set of best practice checklists, as well as quick tips on how to prepare a great RFP.
Get your RFP together more quickly and more efficiently—with EZ-RFP. Download your copy today.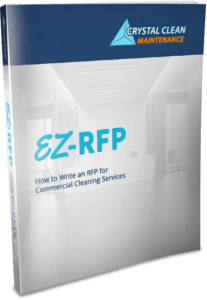 Download Your EZ-RFP Today.
Just enter your email and click Request my EZ-RFP to receive your copy.