Our Commercial Kitchen Cleaning Services
At Crystal Clean Maintenance, we are aware of how crucial it is for your company's success to keep the kitchen clean and hygienic. Our team of experienced professionals is committed to delivering exceptional commercial kitchen deep cleaning services near you. No matter what type of food-related business you manage, whether it's a busy cafeteria, a booming restaurant, or anything else, we have the skills and tools to make sure your kitchen is spotless.
Why You Should Choose Crystal Clean Maintenance?
Expertise: Our team is made up of skilled professionals who are trained in the specifics of cleaning a commercial kitchen. When it comes to providing an in-depth clean, we take no shortcuts. In addition, getting in touch with us is all that is required to book our services.
Quality Assurance: Crystal Clean Maintenance is committed to the highest standards of cleanliness and hygiene. We use eco-friendly products and the latest technology to ensure your kitchen meets all health and safety regulations.
Broad Service Offering: We offer all of the services our customers need to remain clean and compliant.
Areas Covered under Kitchen Cleaning Services:
Commercial hood canopy cleaning.
Grease trap cleaning.
Ductwork cleaning.
Accessible fan cleaning.
Fire door installation.
Fire suppression maintenance and installation.
Extinguisher sales and inspection.
When you choose us as your commercial kitchen cleaning service, you're not just getting a cleaning service – you're gaining a partner in your culinary adventure. So, let's talk about your kitchen's needs and discover how Crystal Clean Maintenance can make your kitchen shine like never before. Reach out today for restaurant kitchen cleaning services that come with a friendly smile!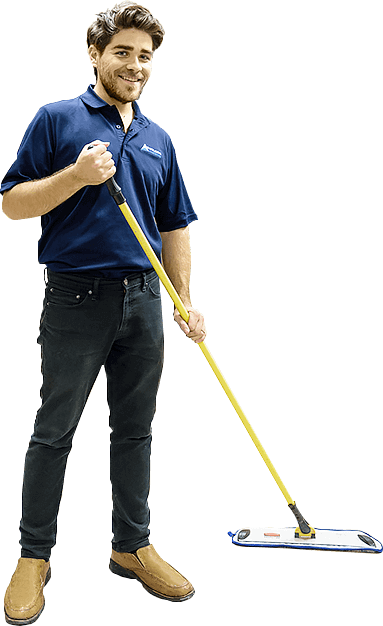 Crystal Clean Maintenance has more than 50 years of custodial experience in Fredericton, Moncton, St. John, and the surrounding area. We are fully insured and bonded, providing liability and property damage coverage. We screen all employees for your protection, and have their documentation available for you to view. Our staff are neat in appearance and carry proper company identification.
Need commercial cleaning? Choose the Crystal Clean difference.
Bottom line? We are fully committed to providing our clients with incredible service, and we'll do whatever it takes to help you maintain and enhance the value of your property.
Yes—Writing an RFP can be easy!
Preparing an RFP for commercial cleaning services can feel like torture.
You need to do one, because that's what will make the process fair.
They take so… Much… Time. And how can you be sure you're not forgetting anything?
That's where our checklists can help. When you download EZ-RFP: How to Write an RFP for Commercial Cleaning Services, you'll get a printable set of best practice checklists, as well as quick tips on how to prepare a great RFP.
Get your RFP together more quickly and more efficiently—with EZ-RFP. Download your copy today.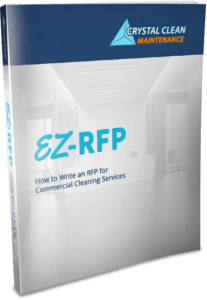 Download Your EZ-RFP Today.
Just enter your email and click Request my EZ-RFP to receive your copy.