Miramichi's Premier Kitchen Grease Cleaning Service
You need a reliable partner in Miramichi who has experience taking on the most difficult grease-related difficulties if you care about the cleanliness and security of your kitchen. At Crystal Clean Maintenance, we are your local experts in kitchen grease cleaning services. With the help of our committed staff and proven techniques, we guarantee that your kitchen is not only spotless but also free of grease accumulation, which can pose major fire and health risks.
Our Kitchen Grease Cleaning Services
Crystal Clean Maintenance is your trusted kitchen grease cleaner in Miramichi that offers a comprehensive range of kitchen grease cleaning services. These services are tailored to meet the unique needs of restaurants, commercial kitchens, and residential properties in Miramichi:
Exhaust Hood and Duct Cleaning:

Complete cleaning of filters, ducts, and kitchen exhaust hoods to get rid of grease accumulation.
Compliance with industry standards and fire safety regulations.

Kitchen Equipment Degreasing:

Expert cleaning of fryers, ovens, stoves, and grills.
Removal of stubborn grease residues for improved appliance performance.

Floor and Surface Degreasing:

Deep cleaning and degreasing of kitchen floors, walls, and countertops.
Non-slip floor treatment to enhance safety.

Grease Trap Cleaning:

Routine maintenance and cleaning of grease traps to prevent clogs and backups.
Proper disposal of collected waste grease.

Customized Cleaning Plans:

Tailored cleaning schedules and plans to suit your kitchen's unique needs.
Preventative maintenance to reduce the risk of grease-related issues.
Our skilled technicians have extensive experience in tackling even the most stubborn grease buildup. At Crystal Clean Maintenance we are happy to be the go-to kitchen grease cleaner in Miramichi. Our goal is to maintain your kitchen hygienic, safe, and compatible with regulations. To schedule your kitchen grease cleaning service or to get a free consultation, get in touch with us right now.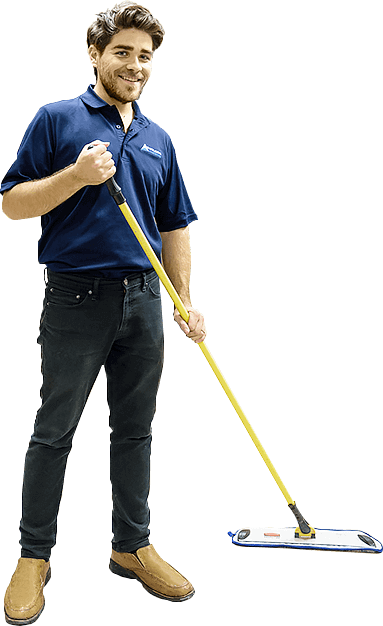 Crystal Clean Maintenance has more than 50 years of custodial experience in Fredericton, Moncton, St. John, and the surrounding area. We are fully insured and bonded, providing liability and property damage coverage. We screen all employees for your protection, and have their documentation available for you to view. Our staff are neat in appearance and carry proper company identification.
Need commercial cleaning? Choose the Crystal Clean difference.
Bottom line? We are fully committed to providing our clients with incredible service, and we'll do whatever it takes to help you maintain and enhance the value of your property.
Yes—Writing an RFP can be easy!
Preparing an RFP for commercial cleaning services can feel like torture.
You need to do one, because that's what will make the process fair.
They take so… Much… Time. And how can you be sure you're not forgetting anything?
That's where our checklists can help. When you download EZ-RFP: How to Write an RFP for Commercial Cleaning Services, you'll get a printable set of best practice checklists, as well as quick tips on how to prepare a great RFP.
Get your RFP together more quickly and more efficiently—with EZ-RFP. Download your copy today.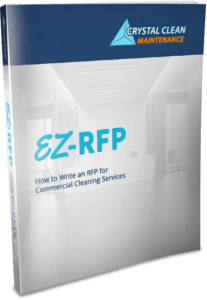 Download Your EZ-RFP Today.
Just enter your email and click Request my EZ-RFP to receive your copy.